Art winners photographed!
April.17th.2013
It's the end of an era! Congratulations to all our Dead Sounds art winners. Thanks to everyone who sent photos of themselves from the framers to the portraits to the abstracts, the head stickers and wall hangers - we enjoyed them all.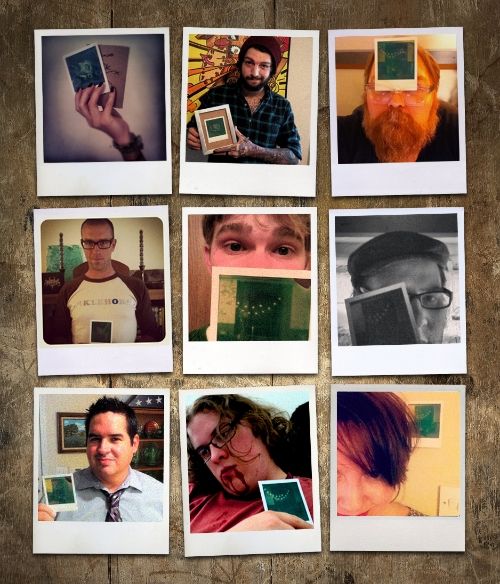 win exclusive dead sounds artwork
kreeps give away original art to fans
may.1st.2012
Kreeps are set to give away exclusive, original artwork from their 'Dead Sounds' album as a thank you to their fans.
the polaroid photographs on offer are the original shots taken from the dead sounds sessions that went into creating the album artwork. No two shots are the same and each one-of-a-kind polaroid is individually signed on the back by both kreeps artist robert 'nix' nixon and dom kreep.
To be in with a chance to win a special piece of kreeps art simply add yourself to our mailing list (you can do this on our home page). winners will be chosen at random from our subscribers over the coming months.
Hang Some Kreeps on your wall
Kreeps artist features in "Lyric" Exhibition
April.21.2012
Kreeps visual artist Robert "Nix" nixon has been invited to take part in a special exhibition curated by Glenn Barr. The theme of "Lyric 2012" centres around artist's relation to music and the inspiration that feeds them. As Glenn put it:
"Music and it's lyrics can always stimulate our emotions as well as leave us contemplating a visual narrative. Artists have always been known to use lyrics as inspiration and with this have created some of the greatest works in the world. This exhibition will illuminate the artist's personal transcription from a song lyric to canvas." - Glenn Barr
For this exhibition Glenn had one simple request for each artist: Each piece of art must be 12x12 inches, paying homage to the timeless beauty that can fit on the cover of a vinyl record. Each artist has been given free reign to draw inspiration from their favourite artist, album, song, or lyric and put their personal interpretation to canvas.
we're proud of Nix for being chosen to take part in this prestigious show and even more so that Nix chose Kreeps song "Funeral Home Blues" as his inspiration for the piece he subimtted.
artist reception at the show is from 6-11 on saturday april 21st at 323 East in royal oak, Michigan. the exhibition is on view from april 21st - may 16th 2012. This event is free and open to the public.
Visit nix online here and on facebook here.
KREEPS BUILD SPIRIT CLINIC IN WASHINGTON
NEW ALBUM PLANS Announced
March.20.2012
Dom Kreep has revealed that he is working on a third, full length Kreeps album with the working title "Spirit Clinic"
Details are currently sketchy, but work has apparently already started in the pacific northwest woods. Songs slated to appear on the album are - Twenty Years Of Bad Blood, Saltair, Marilyn's bed, Leather and bone and voodoo black excorcist.
Describing one title as "'The spirit of Billy Strange conducted through a rotating Leslie speaker" and another as a "Bavarian death waltz hidden in a kaleidascope", Dom suggested new tracks will feature Kreeps' familiar, sinister auras along with dreamy, hypnotic dimensions.
Artist and photographer Bob Nixon - a long time Kreeps collaborator - is expected to be back on board for art direction and execution duties.
A release date is yet to be confirmed.
Panic in Detroit!
Rare Dom Kreep Solo show Announced
December.1.2011
Dom Kreep will play a one man show at the russell center, detroit on december 10th. this free event inside the hallows of the robert nixon art studio space will be a rare chance to experience never before heard stripped down versions of kreeps material and other show tunes from the reclusive band leader plus a chance to meet kreeps long time visual artist robert 'Nix' Nixon and peruse other great art by nix and the Monster King Productions Crew.
Kreeps Soundtrack sundance favourite horror comedy
i wanna kill kill kill hits movie theatres
july.28.2011
i wanna kill kill kill from kreeps' debut album "belly full of razor blades" features in the new trailer for horror comedy "Dale and Tucker vs. Evil" courtesy of magnolia pictures. the film premiered at sundance festival and RECEIVED GREAT REVIEWS for it's excellent balance of horror and comedy much in the same way Shaun Of The Dead did in 2004.
The film hits theatres in september but for now Check out the trailer below and jam out to some horror punk courtesy of kreeps.
New Instro Madness fresh from the grave
New Kreeps Track "Monster King theme" released
may.13.2011
a brand new kreeps download - the second this month - escapes today! written for the launch of the new monster king productions website - the home of horror artist stephen vincent - "Monster King Theme" is a lumbering, spooky instrumental akin to kreeps' red dead redemption undead nightmare soundtrack work. featuring liquor soaked shambling drums, eerie theremin and the organ of doom, the track is a treat for anyone thirsty for an earful of atmospheric weirdness.
an interview with dom kreep via ouija board about the track can be found on the monster king website
The MOnster King theme is available now from all the usual outlets.
vampires, cannibals, zombie bikers - oh my! the music behind the music
dom kreep writes for bizarre magazine
may.5.2011
dom kreep appears on european quirk-fest, bizarre magazine's website, with a guide to the less typical and more off kilter cult horror soundtracks that have inspired and shaped his sinister aural world. head over to the bizarre site for a feature filled with a library of industrial-euro-exploitation-funk-psyche and listen to some of the selections yourself!
find him on the homepage (music feature) here
hop straight to the article here
| | | | | |
| --- | --- | --- | --- | --- |
| | | | | |
| Tattooed goddess Kristen Leanne bares everything in our brand new Tattoo Special. Full preview here! | | TICKETS ARE SELLING FAST for the Summer Bizarre Ball, taking place on 21 May in London. | | Gothabilly's Dom Kreep delivers his list of the ultimate scary movie sounds. |
Roger Corman, John Waters, Banned films and kreeps!
brand new kreeps track appears on rue morgue magazine free compilation "hymns from the house of horror"
april. 29.2011
do you have an ear for fear? rue morgue radio, the worlds premiere horror in culture and entertainment broadcast returns this week with hymns from the house of horror vol.II - an all-new free downloadable music compilation featuring 80 minutes of exclusive tracks, previously unreleased oddities, sneak peeks and killer cuts from the cream of the horror music crop, including GWAR, calabrese, the brains and kreeps. hymns from the house of horror vol. II will be released exclusively through www.rue-morgue.com for a limited time from may 1st till july 31 2011.
"with the success of the first hymns comp under our belt, we were really able to attract some of the horror genres biggest bands this time around." explains rm's associate editor trevor tuminski. "if you're a horror fan you owe it to yourself to discover some bands that i guarantee will be your new favourites, not to mention that a lot of these songs are previously unreleased and not available anywhere else."
this sunday, may 1st at 12:01 A.m., listeners will be able to check out the bands, link to their websites and download the entire hymns compilation free complete with printable album artwork and original grindhouse movie trailers created by staffers. readers of rue morgue will also be able to access a four page feature article spotlighting each of the contributing artists, exploring the origins of each track's conception in issue #111 may 2011 featuring a cover story on cult filmmaker john waters.
Back from the grave!
undead nightmare soundtrack finds it's way onto cd
february.2.2011
acclaimed composers of the original red dead redemption soundtrack, bill elm and woody jackson return for the terrifically spooky soundtrack to rdr : undead nightmare. radically transforming the beautiful frontier landscapes of the original game into a b-movie zombie horror apocalypse. undead nightmare has a suitably eerie instrumental score accompanied by epic southern gothic rockabilly from guest performers kreeps and misterio.
the soundtrack includes three kreeps tracks including the now famous surf rocker "Bad voodoo".
the cd version is available at the rockstar warehouse for only $9.99!
...And the winner is...
kreeps "Dead Sounds" - album of the year at Rue Morgue Magazine 2010 round-up
January.6.2011
following on from the fantastic review kreeps received for the dead sounds album last month in rue morgue magazine, the band were more than thrilled to hear that dead sounds not only ranked very highly at the rm office - but was officially awarded album of the year in their "r.i.p to 2010" round-up.
also hitting the top spot for best video games dlc was kreeps soundtracked western apocalypse red dead redemption: undead nightmare.
other top spots went to amc's the walking dead for best television and Filmax's [rec]2 for best feature film. See below for more of the list or pick up a copy of rue morgue online or at your newsstand.
Dead Sounds is available on i-tunes or on special edition cd at our store
Red dead redemption and the undead nightmare win big at vga's
December.11.2010
Rockstar Games came out on top at the 2010 video game awards with the red dead redemption and undead nightmare titles, scooping up four wins, including game of the year, best original score and best download content. Kreeps were proud to be part of the RDR universe, soundtracking the western undead.
check the rdr tune "far Away" by jose gonzalez, performed live at the 2010 VGa's.
December.10.2010
the new kreeps album "dead sounds" received a sterling review from top canadian horror culture magazine Rue morgue this month. pick up a copy at your local newsstand.
read the review below:
Dead Sounds
Exi-Tone Records

Mixing bits of Joy Division, Buck 65, The Horrors and Magnetic Fields into a sour cocktail all it's own, Kreeps are what a garage band might sound like if said garage was actually a mausoleum. Singing sad songs of bloodlust and black hearts (the lyric "a scratched record never reaches the end" nicely sums up the fatalism worming throughout), "The Count" Dom Kreep and his band of experimental, similarly surnamed punks set Dead Sounds to the beat of a terrible tambourine, creeping keys, "suicide" synths and a haunted harmonica. Tunes range from downright dreary ("Fire in Heart Goes Out") to joyously nihilistic ("Cold Heart Twist," which also features a theremin rocking out over a surf guitar solo!) These strange, bastard waves for a dead generation are only rot 'n' roll, but we like it. TD 0000½
Rockstar games preview new kreeps track
November.20.2010
rockstar games have added a shareable audio stream to their newswire page showcasing brand new kreeps instrumental "Dead Sled". the track features in the new dlc title "red dead redemption undead nightmare" along with "Bad Voodoo" and the tracks appear at pivotal moments in the game.
rdr undead nightmare is also soon to be available as a standalone disc along with the soundtrack which includes the kreeps tracks and the full score from game.
read the full story on rockstars newswire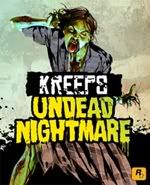 kreeps release second album "dead sounds"
october.31.2010
Kreeps second album "Dead sounds" is now available to purchase on download and special edition cd. the cd version includes special artwork by motor city artist bob nixon, expanded liner notes featuring a short story written by dom kreep, and a bonus track not included with the download version. each cd purchase from the kreeps webstore will include an exclusive two badge and sticker pack.
to buy the special edition head to our web store
for the download head on over to itunes
Kreeps and red dead redemption - Your new zombie killing combo!
October.27.2010
kreeps had their wishes granted way before christmas this year when they were charged with providing the soundtrack to the wild west zombie apocalypse.
rockstar games asked kreeps to compose some specially written tracks for the newest episode of their western epic, red dead redemption : Undead nightmare. the new tracks appear at critical points of the game and form part of brand new score from red dead composers bill elm and woody jackson. the new creepier score helps set the tone and up the tension as the plague ridden zombie hordes overrun the towns and villages of america and mexico.
the soundtrack will be available soon on itunes
let kreeps put you in the moment - we want to see head shots people!